There are certain organisation specific details which is common for all the employees across the organisation.
Organisation profile
To manage your organisation profile, click on 'Menu -> Setup -> Organisation -> Profile'. You can manage organisation contact details, the ABN and ACN number.
In order to have a personalised look for any PDF generated for your Quote, Sales Order, Invoice or any entity, upload your organisation logo in Quiddity. You can use any .jpg or .png logo with max size of 8 GB. For best result upload the logo in Portrait (200px * 200px) or Landscape (300px * 150px) mode.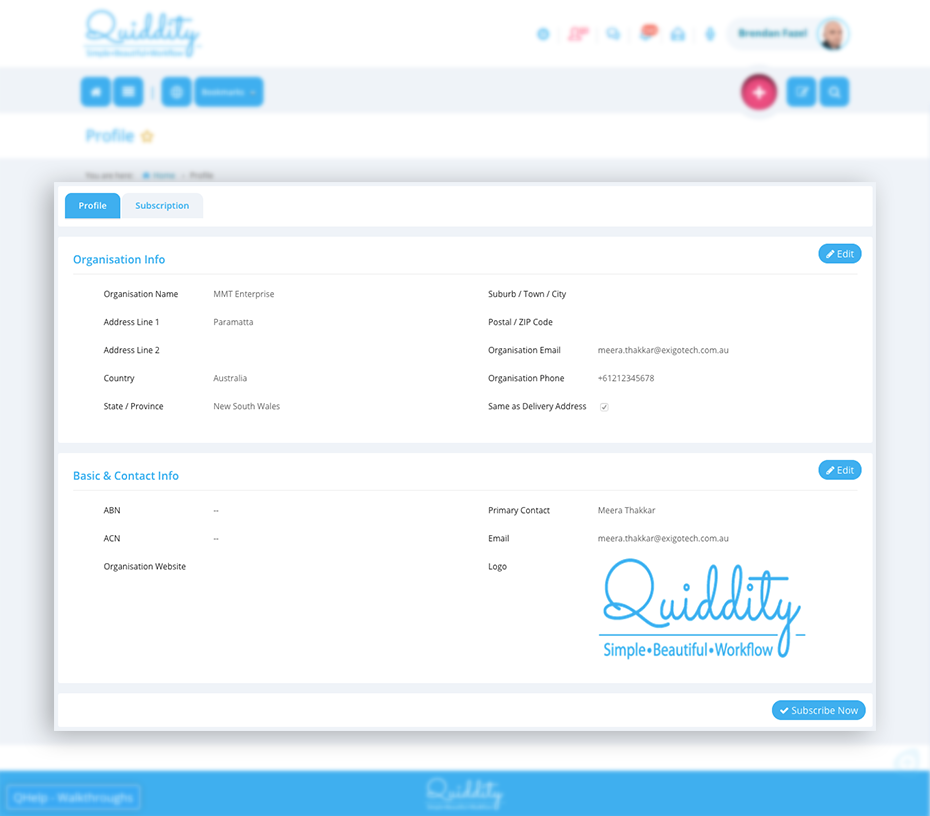 Subscription details
To view Quiddity subscription details, click on 'Menu -> Setup -> Organisation -> Subscription'.
This particular section will give you detailed information about your current subscription plan, credit card details, bills paid so far and next renewal information.
You can also change your credit card information using 'Change credit card' button. To change the credit card information, click on 'Change credit card' button, enter the card holder name, card number, expiry date and the CVC number and click on 'Change credit card', new credit card details will be saved and used for next auto-renewal process.
You can see the history of bills auto-renewed Quiddity subscription charges by clicking on 'View Bills'. You can also download any past invoice.
The renewal section will have 'cancel subscription' button for Subscription Owners. To cancel Quiddity Subscription, click on 'cancel subscription' button, fill the survey form and give reasons for cancelling your Quiddity account. The account shall be cancelled after the expiry date of the Quiddity account.